Toys "R" Us is back at Macy's and so is their must-have Holiday toy list. The popular kids toy company recently released their 2022 Geoffrey's Hot Toy List. The curated list of toys offers parents gift ideas to keep in mind for their children this Christmas season.
This year's Hot Toy List will be available at Macy's featuring 100's of the best toys of the year. On October 15th, Toys "R" Us shops will officially open at all Macy's stores nationwide. Be sure to check out the in-store events beginning on October 15th through October 23rd. Their will be family friendly activities as well as daily giveaways from top toy brands.
The list is broken down by age group to help you shop the perfect toy this year. I've taken a look at Macy's and Toys "R" Us to help compile the list of toys featured in both lists. It is important to note that the Toys "R" Us list includes more top picks, not listed on Macy's, so be sure to check out both.
Geoffrey's Hot Toy List for 0-24 Month Olds
Fisher Price DJ Bouncin' Beats‌
Fisher Price Laugh N Learn All-In-One Sports Arena‌
Melissa & Doug Wooden Shape Sorting Grocery Cart‌
SkipHop Explore & More Grow Along 4-in-1 Activity Walker‌
Geoffrey's Hot Toy List for 2 Year Olds
Baby Shark Dancing DJ
Baby Shark Ultimate Shipwreck Playset‌
Bluey Dance & Play Feature Plush‌
Cocomelon JJ Bedtime Plush Doll‌
Cocomelon Musical Yellow School Bus‌
Melissa & Doug Paw Patrol Wooden Dashboard‌
Geoffrey's Hot Toy List for 3-4 Year Olds
Baby Alive Princess Grows Up‌
Disney Princesses Singing Dolls‌
Encanto Madrigal House Small Doll Playset‌
Fashion Fidget Surprise Dolls‌
Fisher Price Imaginext Jurassic World 3 Mega Stomp & Rumble Giga Dino
Fisher Price Little People Barbie Dreamhouse‌
Gabby's Dollhouse Purrfect Dollhouse
Hatchimals Unicorn Interactive Toy
Healthy Roots Zoe Doll‌
Imanginarium All Around Kitchen‌
Marvel Groot Feature Plush‌
Melissa & Doug Blues Clues Share with Blue Picnic Play Set‌
Melissa & Doug Deluxe Dust! Sweep! Mop! Cleaning Playset‌
Mickey Mouse Pirate Ship‌
Minnie Mouse Marvelous Mansion Playset‌
Paw Patrol Big Truck Pups, Truck Stop Wide Transforming Playset
Peppa Pig All Around Playset
Pj Masks Charge and Roar Power Cat‌
Playdoh Ice Cream Truck‌
Spidey and His Amazing Friends Action Figure and‌ Vehicle Playset
Imaginarium Metro Line Table
You & Me Happy Together Family Cottage‌
Geoffrey's Hot Toy List for 5-7 Year Olds
Art Squad Dolls‌
Avastars Dolls‌
Barbie Bakery Playset
Barbie Camping Tent + Dolls
Barbie Color Reveal Neon Tye-Die Large Gift Set
Barbie Dream Closet 2.0 Doll and Playset‌
Batman All-Terrain Batmobile Remote Control Vehicle‌
Black Panther Wakanda Claws Role Play‌
Bratz Mini Flashback Dolls‌
Disney Doorables Stitch Collector Pack‌
Disney Princess Style Collection World Traveler Play Suitcase‌
Fast Lane Fire City Playset‌
Fast Lane Truck Carry Case‌
Furreal Friends Cinnamon My Stylin' Pony‌
Got 2 Glow Fairy Baby Finder‌
Gund P' Lushes Adie Purrnel‌
Hot Wheels City Shark Strike Rescue‌
Hot Wheels Monster Trucks Tournament of Titans Raceway‌
Jurassic World Strike N' Roar Giant Dino‌
Leapfrog Magic Adventures Microscope‌
LEGO Disney Princesses Cinderella and Prince‌ Charming's Castle
Lightyear Large Scale 12" Ultimate Buzz
Magic Mixes Crystal Ball‌
Marvel Avengers 6" Mech Strike Action Figures‌
Miraculous Talk and Sparkle Ladybug‌
My Little Pony Musical Mane Melody‌
Polly Pocket Gumball Bear‌
Rainbow High Vision Dolls‌
Rock 'Em Sock 'Em Raptors Jurassic World 3‌
Safari Track Set
Sonic Egg Mobile Battle Set‌
Sonic 2 Movie- Sonic Speed RC‌
Star Wars Elf Interactive‌
Transformers Cyberverse Smash Changers‌
Twilight Daycare Deluxe Pack‌
Wizarding World Standard Diagon Alley Doll Collectibles & Playset
Sink N' Sand Kinetic Sand Family Board Game‌
L.O.L. Surprise! Omg Fashion Show – Style Edition & Hair Edition Asst
Geoffrey's Hot Toy List for 8-10 Year Olds
Monster Jam Monster Garage‌
Nerf Elite 2.0 Motoblitz‌
Nerf Hyper Evolve‌
Nerf Ultra Speed‌
Squishy Little Dumplings DJ Mel Mix-A-Lot‌
Star Wars Sinclair Animatronic‌
Super Mario Let's Go Yoshi!‌
Super Maro Nintendo 2.5" Dlx Toad Playset‌
Beyblade Interstellar Drop Battle Set‌
Discovery #Mindblown Kids Jellyfish Lamp‌
Discovery #Mindblown Toy Circuitry Action Experiment‌
Discovery #Mindblown Toy Dinosaur Construction Set 56Pc‌
LEGO Black Panther Shuri's Flying Vehicle & Minifigures Building Set
LEGO Jurassic World T. Rex & Atrociraptor Dinosaur Breakout‌
Macy's Exclusive Monster Truck
Pixobitz Studio Kit‌
Playmobil Mars Expedition‌
Pokémon Carry Case Volcano Playset‌
Pokémon Sword & Shield Series 10 Astral Radiance Elite Trainer Box
Sharper Image Toy RC Stunt Mongoose Led‌
Shimmer 'N Sparkle Braid & Wrap Hair Designer‌
Geoffrey's Hot Toy List for 10+ Year Olds
Star Wars Grogu 3.0‌
FUNKO! Holiday Geoffrey‌
Pictionary Air Star Wars‌
Sharper Image 5" Drone Lumo Glow Stunt
Sharper Image Toy Laser Tag Handtank Battle Pack‌
LEGO Friends Emma's Art School‌
LEGO Star Wars Obiwan Space Ship and Minigures
Monopoly World Tour
HOVER 1 Helix Hoverboard Camo
To get you excited about the release of the 2022 Geoffrey's Hot Toy List, check out the top 10 toys available soon at Macy's.
Geoffrey's Top 10 Toys of 2022
Jurassic World T-Rex and Atrociraptor Dinosaur Breakout
as of November 4, 2022 9:08 am
Fans can reimagine thrilling action from the Jurassic World dominion movie with this T rex and Atrociraptor dinosaur breakout (76948) toy play set.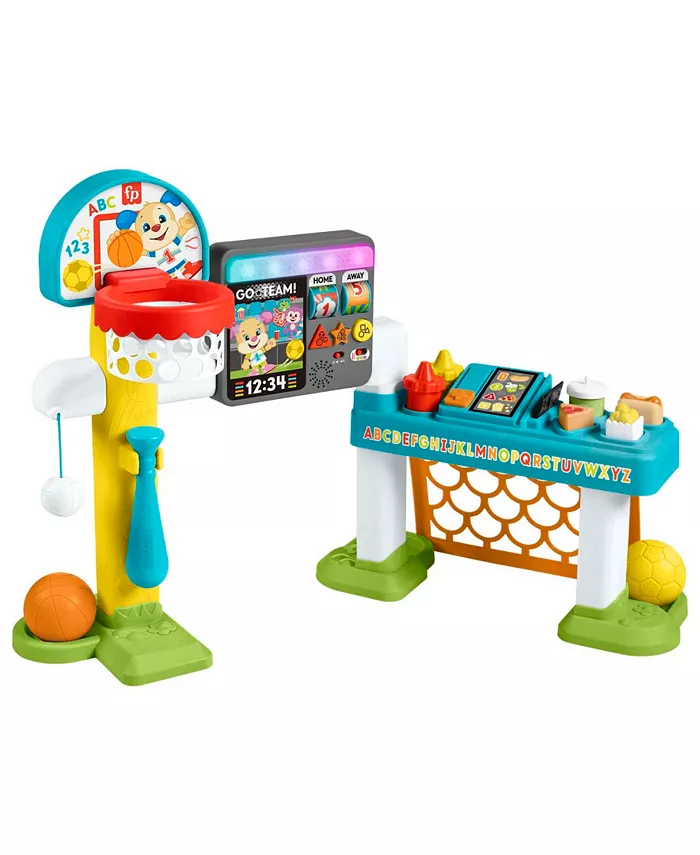 Fisher Price Laugh Learn 4-in-1 Game Experience Set
as of November 4, 2022 9:08 am
4 ways to play Basketball, soccer, and baseball sports toys plus pretend concession stand and light-up interactive scoreboard.
Disney Junior Minnie Mouse Bow-Tel Hotel
as of November 4, 2022 9:08 am
Pack your bags and check-in at the Disney Junior Minnie Mouse Bow-Tel Hotel. Kids will love reenacting Minnie Mouse's fun adventures with this chic hotel! At almost 2-feet tall, this two-sided playset features four floors with seven fully furnished rooms. Kids will love using these free-standing pieces to customize their hotel.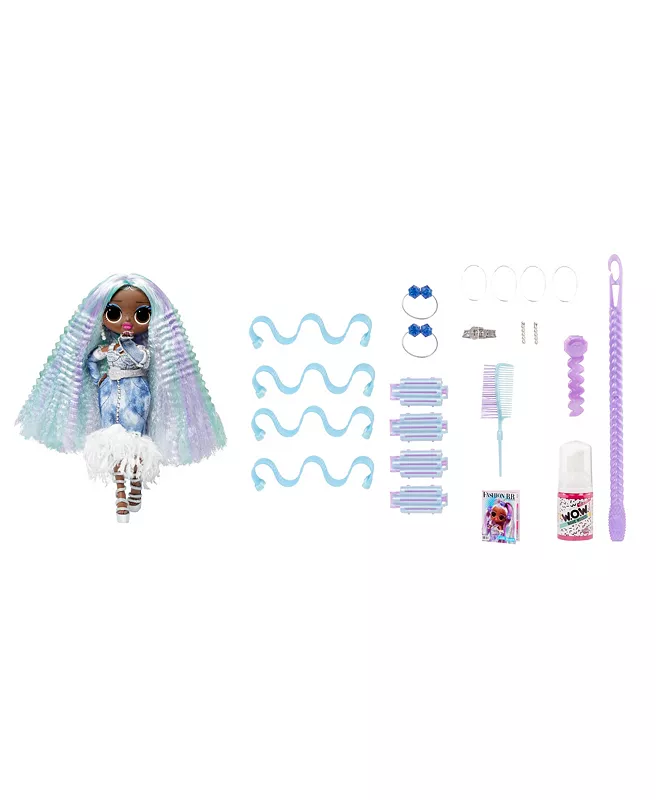 L.O.L. Surprise! OMG Fashion Show Dolls
as of November 4, 2022 9:08 am
These OMG fashion dolls love to have stylish fun with their friends and strut their stuff on the runway. Twist queen is fierce, fabulous, and ready for her hair transformations she needs your help to get on the cover of fashion B.B. magazine.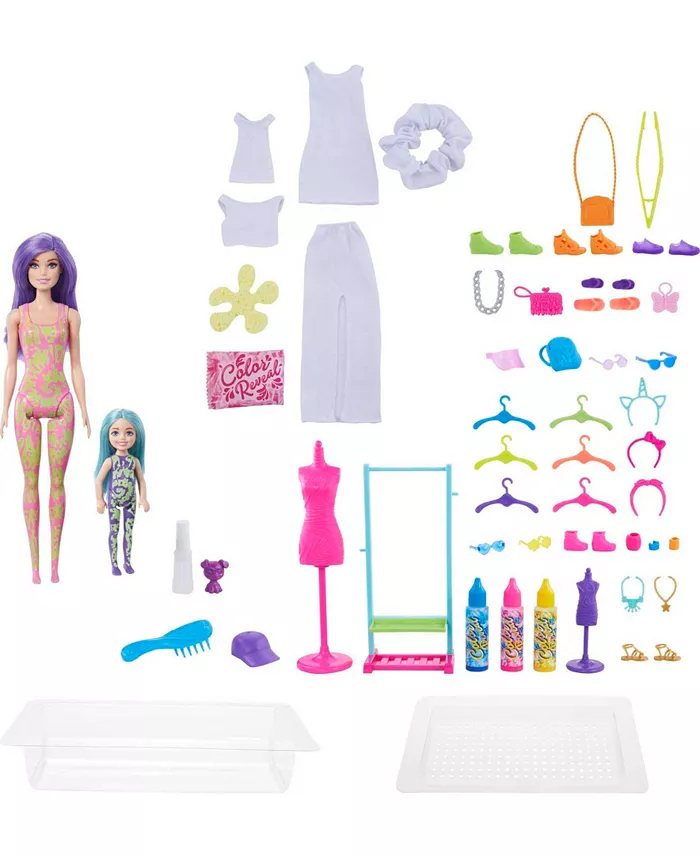 Barbie Color Reveal Tie Dye Fashion Maker
as of November 4, 2022 9:08 am
Barbie Color Reveal Tie-Dye Fashion Maker gift set creates the ultimate unboxing experience with 50 surprises! Unbox to find a Color Reveal Barbie and Chelsea doll in a Color Reveal neon tie-dye coating, a Magic Fashion Reveal Tablet that consists of white clothing to dye, a complete tie-dye toolkit that easily allows kids to create their own fashion looks for Barbie and Chelsea dolls and 35+ fashion-studio themed pieces.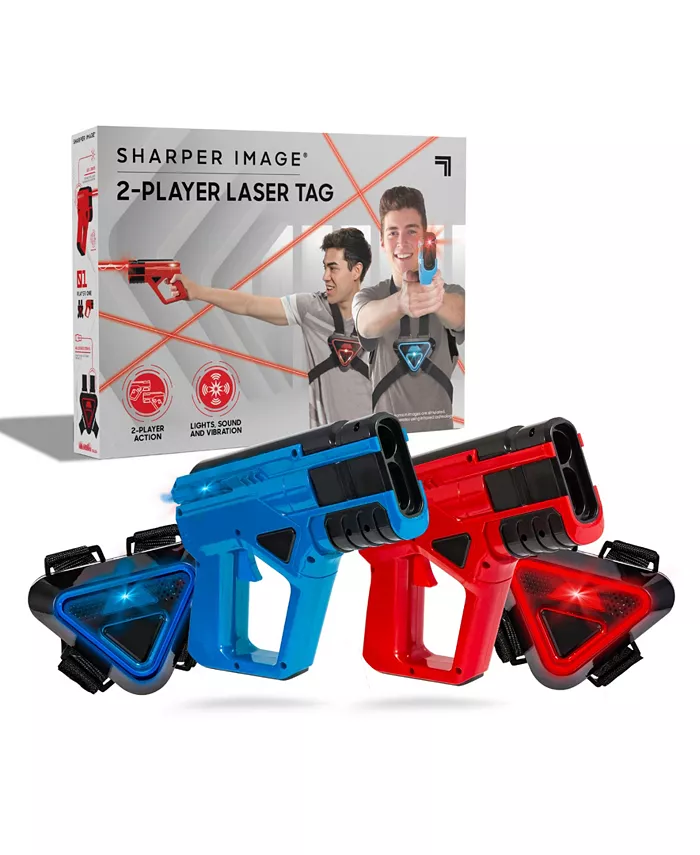 Sharper Image Two Player Toy Laser Tag Set
as of November 4, 2022 9:08 am
Prepare for battle with Sharper Image two-player toy laser tag set that gives you real-life stimulation with vibration feedback, sound effects, and automatic score count. Great for indoor or outdoor use, laser tag is the perfect way to get moving and still have fun doing it.
Hasbro Spider Man Across The Spider Verse Spider-Punk Guitar
as of November 4, 2022 9:08 am
Spider-punk is a british, punk rock Spider Man with a wicked electric guitar. Imagine shredding on the guitar like spider-punk with the Spider Man across the Spider Verse S1pider-punk web blast guitar from Hasbro Marvel kids can rock out with this musical toy with 3 music genres to choose from.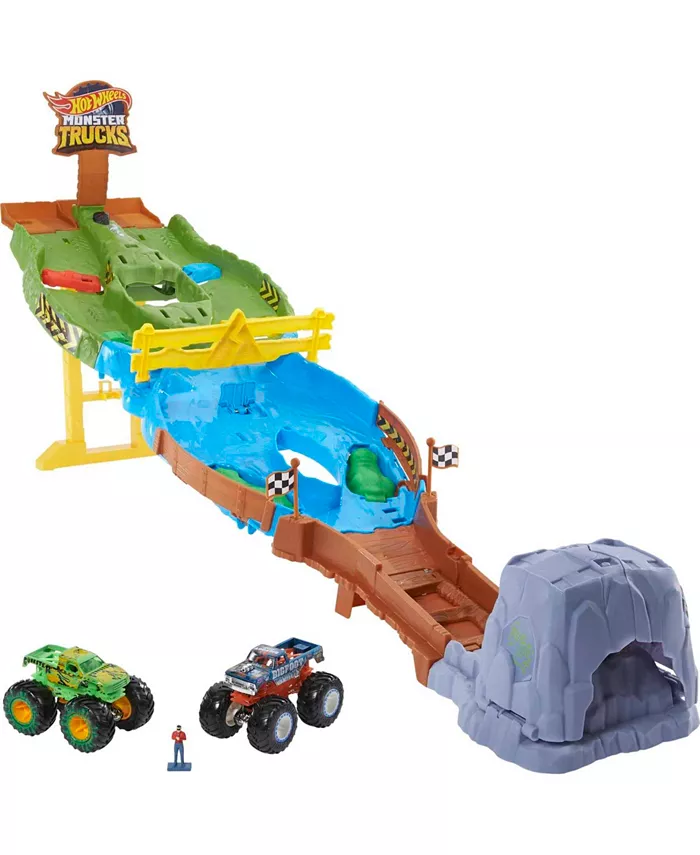 Hot Wheels Monster Trucks Wrecking Raceway Playset
as of November 4, 2022 9:08 am
Find out who's the fastest and toughest Monster Truck as they compete in the Hot Wheels Monster Trucks Wreckin' Raceway! Inspired by the epic downhill races from the Hot Wheels Monster Trucks YouTube series, Bigfoot and Gunkster smash and crash down the mountain, over crushable cars and through a sequence of obstacles to blast through the cave to claim the coveted Champions Cup.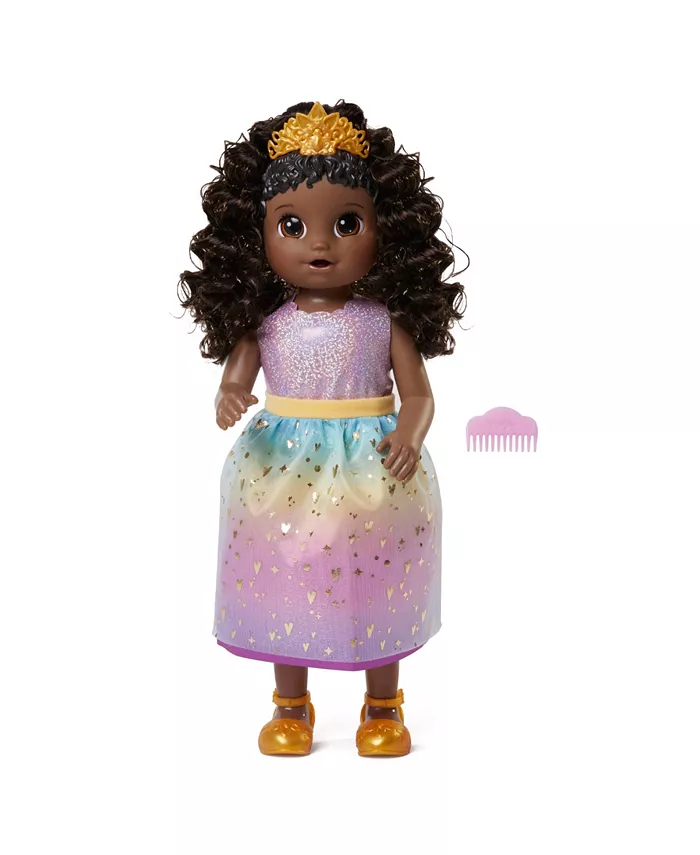 Baby Alive Princess Ellie Grows Up Doll Set
as of November 4, 2022 9:08 am
When will she grow into a gorgeous princess Baby Alive princess elide grows up talking doll grows little by little with kids.
Pokémon Sword & Shield Series 10 Astral Radiance Elite Trainer Box
as of November 4, 2022 9:08 am
Legends of Time & Space Take Charge! Travel back to a land of myths, legends, and wilderness as Origin Forme Dialga VSTAR and Origin Forme Palkia VSTAR shape the fabric of time and space! Decidueye, Typhlosion, and Samurott arrive as Hisuian Pokémon VSTAR, joining more Pokémon and Trainers from the ancient region of Hisui. Meanwhile, Shiny Pokémon reappear as Radiant Pokémon, with Radiant Greninja leading the charge in the Pokémon TCG: Sword & Shield—Astral Radiance expansion.
What are some of the toys your kids are asking for this Holiday shopping season? As families cut back on Christmas gifts this year, are their any budget friendly toy ideas you have in mind? Share your thoughts with my readers in the comments section below.